FOR PETS & DOGS
We are seeing an increasing number customers who own pets, particularly dogs, turn to fake grass to cover the majority of their garden spaces. Check out our range of pet friendly artificial grass – FREE Samples available!
ARTIFICIAL GRASS FOR PETS
With no need to mow, your pet-proof, child friendly artificial lawn from Polished Artificial Grass, we can help you create the perfect garden lawn with virtually no ongoing maintenance.
Artificial grass is perfect for homeowners with pets such as dogs and cats which regularly frequent the garden! All of our artificial lawns are completely lead free meaning our fake grass products have zero toxic content whatsoever, something you simply cannot be sure about when you buy cheap imitation artificial grass imported from places like China. We would typically recommend our customers choose a shorter pile height (anything under 30mm pile height works great) as this makes cleaning up after your pet even easier!
Why is Artificial Grass Better for Pets?
Below are just a few of the reasons more and more pet owners are choosing Polished Artificial Grass to install a new artificial lawn.
No Toxic Content – Completely Safe Synthetic Grass
It's been widely publicised about the potential harm brought about by contact with the rubber crumb used to fill the base of some artificial lawn products in the media recently.
We can confidently state that not a single one of the artificial grass types we supply and install contain any toxic lead content in the base; meaning you can lay a new artificial lawn from Polished Artificial Grass safe in the knowledge that your pets and children can enjoy the new outdoor space in complete safety.
Be wary of cheap imitation artificial grass, imported from places like China, which is where you tend to find shortcuts have been taken in the manufacturing process and it is this which ultimately leads to harmful toxins being added to fill out the base. All of the syntehtic grass we install and sell is EU manufactured, produced to the highest of standards using no toxic lead content.
See for yourself, order a free sample directly from our website!
Pet Proof – Great for Pets with Allergies
Because everything we use in our artificial grass installation process is completely free of toxins, this makes an artificial grass lawn the perfect choice for those with pets who suffer from allergies associated with grass.
There are many dogs (and indeed other animals that are popular as pets) which unfortunately suffer from skin allergies or they become irritated when bitten by insects which commonly live amongst grass lawns. This means that installing a synthetic lawn as an alternative to real grass can be great for those with pets suffering from grass related allergens.
Professional Installation Prevents Lawn Damage
Pet urine can be extremely acidic which often leads to dead patches in real grass lawns, resulting in unsightly bald patches and the need to re-seed your lawn often.
This can be prevented by installing an artificial grass lawn. All of our grasses come with added UV protection to prevent the sun from changing the colour of your lawn and, thanks to the backing of the artificial grass being permeable with holes in the membrane, your pets can do their business without creating extra work for you!
No mud means no mess. By installing an artificial grass lawn, your pets can play outside without bringing the outside back indoors with them. Less mud on the carpets means less cleaning and more time for you to relax. When you choose our professional installation services we can be confident dogs, cats and other pets can't dig any holes in the artificial lawn.
We also sell artificial grass cleaner or you can use your own cleaning products so long as they don't have any bleach content. We recommend consulting with our customer service team if you have any queries about cleaning your new artificial grass lawn.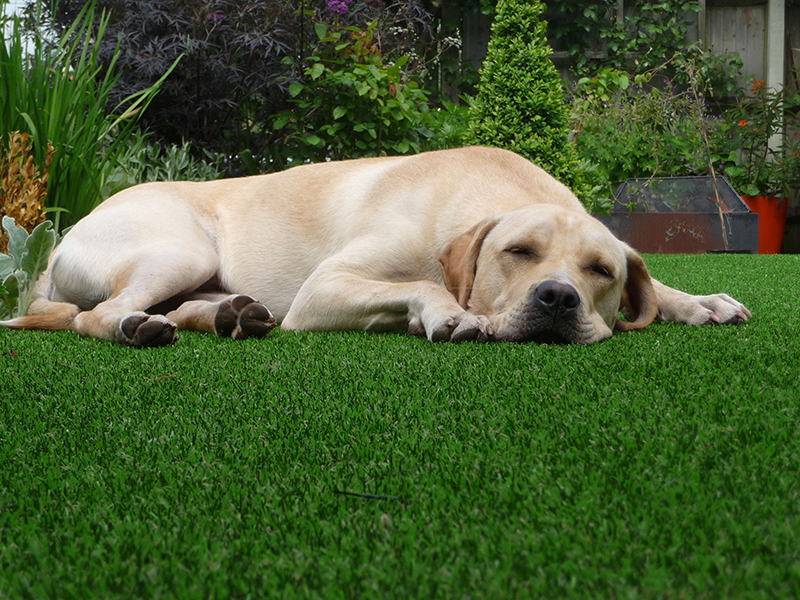 Hard Wearing Grass that Can't be Flattened!
You can even choose to buy or install artificial grass that has a spring back feature (listed on our website as 'Wow Factor' grass) which cannot be flattened underfoot due to the C shaped yarn used as part of the production process.
Together with the fact that all grass supplied has a very high stitch per inch ratio, this makes for an incredibly dense hard wearing grass which is fantastic if your pets spend a lot of time in the garden.
10 Year Guarantee Wherever We Install!
Artificial grass installations at home can be personalised to meet your exact requirements. We have a range of colours and lengths of grasses which are suitable for a variety of purposes. Whatever you want to do with your lawn, we can help.
Remember, when you choose our professional team to install your new artificial lawn we can offer a no quibble 10 year guarantee on the work. No short cuts!
Get in touch today to speak to our experts for advice or to book a free site survey.
Our Recommended Artificial Grass for Pet Owners is the '25mm with Spring Back'
We have two large German Shepherd dogs which were making the maintenance of our small lawned area a nightmare. Until Polished Artificial Grass recommended their 25mm with Wow Factor grass which we now have installed in both gardens! Highly recommended.
I love the fact I can now leave my dog outside in the back garden without worrying what he'll do to my beautiful lawn! The team at Polished Artificial Grass were great, they helped me choose a suitable grass type and they even took out extra insurance as they had to bring their equipment through the house to access the back garden – very professional and they did a great job. No hesitation in recommending! Thanks.
Polished Artificial Grass are UK experts in Artificial Grass Supply and Installation. Check out some of recent residential projects below